Ever need the Happy Planner classic vertical dimensions or sizes for the layout? Now, what about creating or sizing stickers to fit just right? I have the perfect solution for you! Now, check out these scale sized examples of the classic vertical Happy Planner with dimensions/sizes. Also, perfect for your next sticker-creating-session. And, when needed to know the classic vertical dimensions for the Happy Planner sizes.
Most classic-sized Happy Planner cover sizes are typically 9.3″ by 7.5″. However, the deluxe Happy Planner hardcovers are slightly over 9.5″ by 7.5″.
Standard classic Happy Planner paper size is 9.25″ x 7″. The monthly pages and the weekly pages are the same sizes. The Happy Planner punch is pre-marked for these sizes right on the punch itself for easy centering.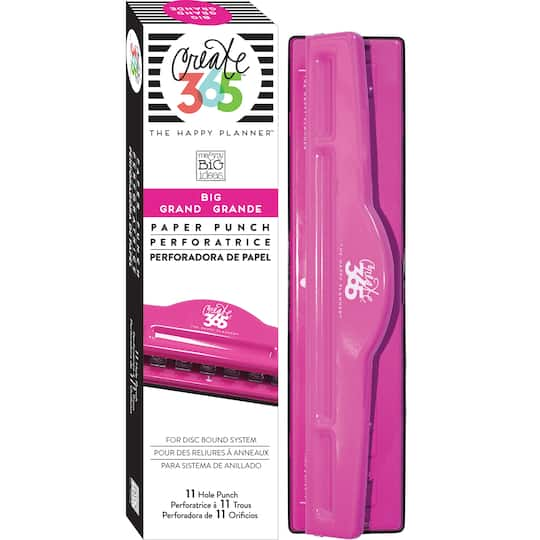 Click here or the image above to purchase the Big Happy Planner Punch (affiliate link) – this works for both all sized Happy Planner products including Big Happy Planner, Classic, and Mini Happy Planner.
Vertical Dimensions for Classic Happy Planner
These classic vertical sizes for the Happy Planner, measured for your go-to resource. Also, please check back as I will be posting sizes and dimensions for the monthly layout dimensions for the Vintage Botanical planner. As well as, posting the sizes and dimensions for the color-block layout sizes and mini vertical planner dimensions.  
Be sure to save this page for your easy resources. Just hit "CTRL+D" on your keyboard to bookmark this page easy access! Great! Now, you have access to seeing the dimensions for the vertical classic-size Happy Planner. Perfect for whenever you just cannot remember how big the paper size is, cover size is, or even the boxes inside!
Be sure to check back soon! Those other pages and layouts will be posted very soon! Do you have a specific layout that needs to be sized or have the correct dimensions that I didn't list above? Please let me know in the comments below! 
Thanks, everyone! 
♥ Nikki from xoxPlannerisms