Happy Planner color block dimensions are looked for when choosing to size for stickers and paper. Now, have you wondered what the sizes were for each box and page? Great! So, you will want to bookmark this page.
So, I have created a scanned image of the weekly theme of the dimensions for the color block layout for Happy Planner. These are great resources for you. Also, click on (CTRL+D) for this page and bookmark it to your browser.
Oh, you don't have a color block layout, Happy Planner? How about a vertical planner? Click here for the dimensions for the vertical layout for the Happy Planner dimensions. Also, you're going to want to check out the monthly dashboard sizes and dimensions here, as well. Otherwise, if the color block theme is what you're looking for, you're in the right place!
Happy Planner Color Block Dimensions
The dimensions for the Color Block layout are found below. If you're looking for the monthly sizes for the Happy Planner monthly dimensions please click here. I included the sizes for your color block layout for the weekly layout/spread.
Of course, this is a great resource for you to bookmark for making stickers, planner content, and more! Now, notice that each box and section is listed with the sizes. I tried to make it as easy to read as possible.
Specific Sizes
Most classic-sized Happy Planner cover sizes are typically 9.3″ by 7.5″. However, the deluxe Happy Planner hardcovers are slightly over 9.5″ by 7.5″.
All the classic planner pages are sized as 9.25″ x 7″ for the full page.
You now easily cut down any page to a 9.25″ x 7″ page and add it to your Happy Planner! However, some pages will not be able to be cut down easily. You may find printables on my Etsy Shop or on other shops that might need to be scaled down to fit the classic size, Happy Planner. You'll want to scale anything received that is 8.5″ x 11 to be 84% printed and centered. These can be printed at 84% scaled for the classic size planner pages to fit perfectly within your Happy Planner.
With the big Happy Planner Punch listed below – you can print any size planner insert or cover and punch it easily! Print your item and punch and you have a custom item in your planner!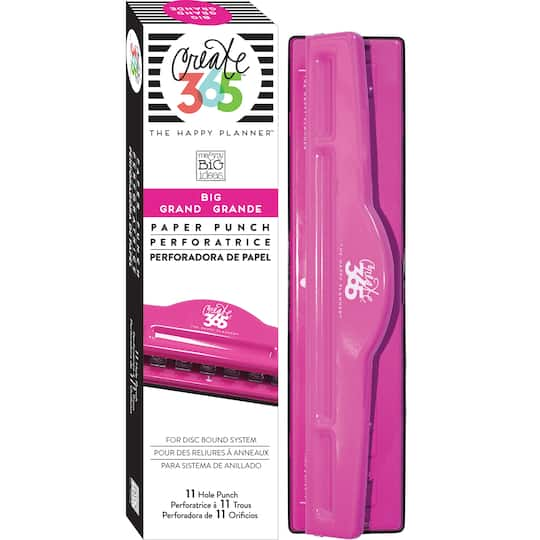 Click here or the image above to purchase the Big Happy Planner Punch (affiliate link) – this works for both all sized Happy Planner products including Big Happy Planner, Classic, and Mini Happy Planner.
So, there you have it! Your own resource for sizes for Happy Planner color block dimensions and sizes. Remember, you can click "CTRL+D" on your keyboard to bookmark this page for easy reference!
Also, you can check back very soon and I'll be adding the Happy Planner dashboard/monthly layout dimensions and sizes, as well! So, be sure to check back very soon and check those out soon!