Hey everyone, Nikki from xoxPlannerisms here. I wanted to let you know – I did a thing! 😂 I was able to make a customize Happy Planner cover using very few materials. What's best about this, you can do it without having any fancy equipment as well!
First a sneak peek:
So, the process is simple. Take any vinyl sticker, in any color, and put it on your deluxe Happy Planner cover. It can be any of the covers. Now, it can be the pink one, black one, any of them! Also, you can do this for your Big, Classic, or Mini size Happy Planner cover and make it custom to your own liking!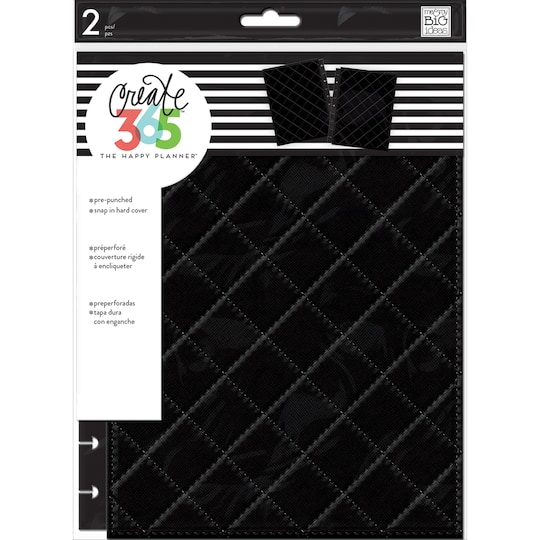 Customize Your Happy Planner Cover
So, here are the instructions, and I also included a video below on how to do this. Watch, it's SUPER easy.
Now, you do not need a Cricut machine or any type of cutting machine. In fact, you can buy your stickers pre-made if you'd like to. You can use any type of vinyl sticker or iron-on that you'd like. However, all you need is a secret ingredient.
Step-By-Step Instructions
First, take your deluxe Happy Planner Cover and decide where you're going to lay down your vinyl sticker and/or iron-on decal. This can be pre-purchased, pre-cut, or something you made with your own cutting machine like your Cricut.
Second, position your sticker on your cover. This will eventually be permanent so make sure to place it exactly how you'd like it stay.
Then, remove the backing from the sticker and place the sticker on your cover.
Once positioned perfectly, you're going to want to add a secret ingredient – heat. Use a blow dryer on high/hot settings and blow dry it. Rub down on the sticker while heating it to ensure it adheres.
Congratulations, you have a customize Happy Planner cover!
See, wasn't that easy!? Also, it looks fantastic, too! As well as, you can use any color or design. And, you can use any cover. You can even use the binder-type deluxe covers, as well. Oh, just be careful heating those with the blow dryer. Because, you don't want that to melt! 
Now, since you know how to do it. You can go ahead and watch my video tutorial on it below. Please, make sure to like, comment, subscribe and share with all your planner babe friends! Finally, follow me on Instagram for lots more tips and tricks for all my planner decorating, as well.